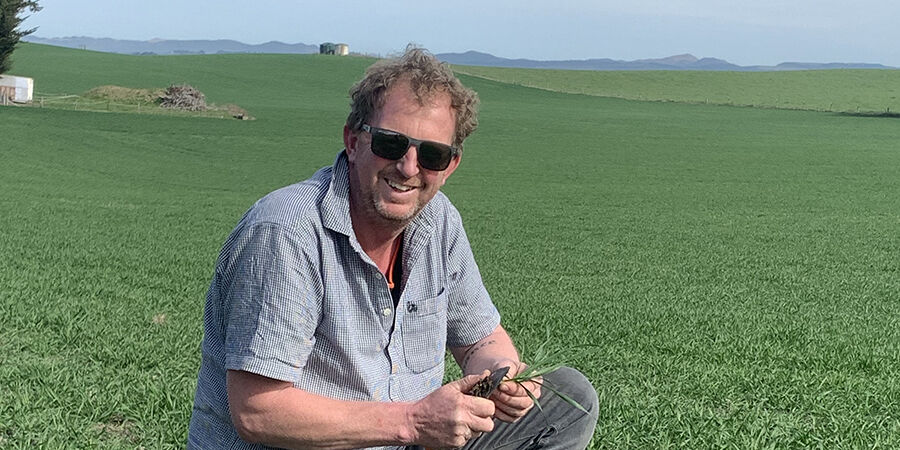 In Spring, you won't find Dave McCabe far from the cab of his tractor as he keeps up with his contracting business. Earlier in Spring, we caught up with him on the phone for a chat about his farming operation and how Catalyst Performance Agronomy helps him make the most from his land (while producing some award-winning crops!)

In addition to his contracting business North Otago Ditching & Baling, Dave and his wife Jackie are partners with Dave's parents, Merv & Jill McCabe, in ownership of two properties, including one 130 hectare farm near Teschemakers to cut and carry grass for silage and graze heifers and mixed age cows on winter forage crops. The second, one being a 50 percent partnership with Richard Gloag on a 420 hectare dairy farm near Omarama.
"We plant up to 45 hectares of fodder beet each season [at the property near Teschemakers] and the rest of it is in three- or four-year grasses which are rotated and re-grassed 20 to 30 hectares per season," Dave says.
At their dairy farm, there is 40 hectares of fodder beet and an equivalent area of re-grassing each season to sustain the 1400-cow herd which are wintered on farm to keep the milking platform pasture cover up.
The McCabe's have always targeted yields in the high 20's (tonnes) for their fodder beet. Since partnering with Catalyst, they have always exceeded their target yield. In the 2020-21 season, the fodder beet yield was even up in the high 30's (tonnes). This translates to a lower cost per tonne of dry matter for their business over the long term.
The 2021 fodder beet result on this land contributed to Dave McCabe being awarded Supreme Overall Winner at Waianakarua and Waiareka Valley Lions Clubs Winter Crop Competition 2021 (North Otago based competition). He was awarded first place in both the Dryland Fodder Beet and Irrigated Fodder Beet categories.
The McCabe's also lease a dryland block to harvest an autumn-sown wheat crop.
"The dry land block is for cropping, mainly wheat. To give the wheat a break, we sow annual grasses to cut and carry for silage and then put back into wheat the following autumn."
Dave has been doing business with Wholesale Seeds, now Catalyst Performance Agronomy, for nearly five years. When Geoff Mavor, his former farming neighbour, got a job as an agronomist with [then] Wholesale Seeds, Dave decided to give the business a go.
"I've always given people who are starting out a chance, so we signed up and have had good results ever since…I've never been disappointed," he says.
At Catalyst, the Performance Agronomy™ approach on offer is precisely tailored every season, for every farm system down to the individual paddock. Catalyst combines proven science, business thinking and an understanding of the nuances of South Island soil and conditions to help customers achieve higher yields and enhanced livestock performance. The solutions focus on each customer's commercial objectives and consider their unique land and environmental circumstances.
Dave, his father Merv, and Geoff will pre-plan all the on-farm agronomy for each season and then catch up regularly to ensure the plan on track.
"Geoff brings all the knowledge of chemicals to the table. He monitors when it's time for spray and fertiliser application on all of our wheat crops; that saves me a big job," Dave says.
He appreciates that Catalyst will listen to what his business wants to achieve and be flexible in its service offering.
"Some other businesses will have a set budget for their agronomic service, and it will be quite rigid. Like, I want to sow 100,000-115,000 fodder beet seeds per hectare to achieve my higher yields, rather than keep the sowing rate down to keep the budget down…Sometimes you've got to spend money to make money," he says.
"You can't knock the commitment and service provided by Catalyst; our joke last season was that Geoff was babysitting the fodder beet he was spending that much time with it."