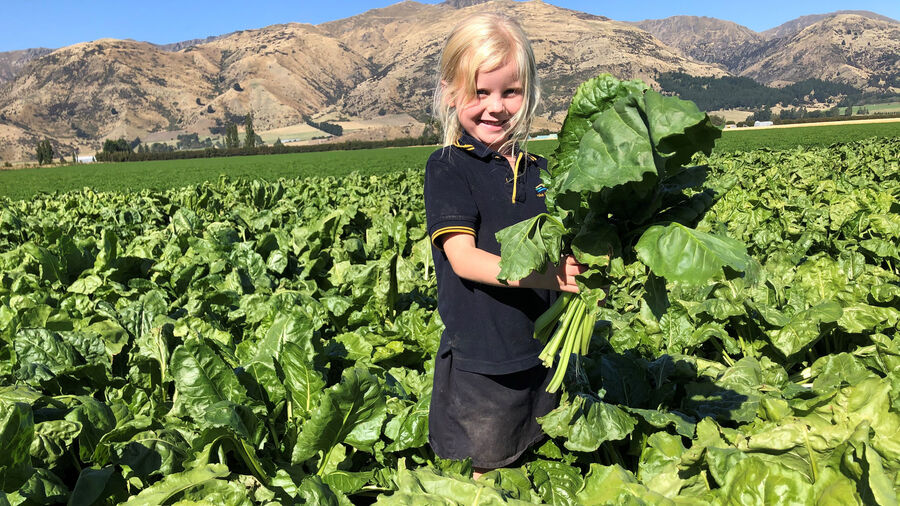 Fodder beet has become an integral part of pastoral farming in New Zealand, with many different uses across many different farming systems as a winter and shoulder feed solution.
Fodder beet is a high yielding (40TDM/ha achievable), high quality feed (12MJME/kgDM) which is commonly used in New Zealand dairy systems as a shoulder supplement, and also favoured for winter grazing due to its relatively low cost of feed (8-10c/kgDM).
In more recent years it has also proven its worth in sheep and beef systems adding more flexibility to traditional brassica crop rotations. Live weight gains of up to 1kg/day through the winter are not uncommon in specialist beef finishing units, provided those systems adheres to industry best practice ie. from transition through to a robust ad-lib feeding strategy with optimal protein supplementation.
With winter cropping coming under increasing pressure from regulators looking to meet their requirements under the National Policy Statement for Fresh Water Management, fodder beet stands up environmentally. It's low nitrogen content (crude protein) means less nitrogen excretion through urination, especially when compared to other winter feed crops in the table below:
Crop

MJME/kgDM

CP %

Yield potential
(TDM/ha)

Growing cost
(c/kgDM)

Kale

10-13.5

12-18

16

12

Swedes

11-13

12-20

16

12

Turnips

12

12-18

12

12

FB - leaf 15%

12-14

9-10

35

8-10

FB - leaf 25%

12-14

11-12

35

8-10

FB - leaf 35%

12-14

12.5-14

35

8-10

Sources:
Larger the leaf, larger the protein percentage
The total DM yield in a fodder beet crop is defined by two components, often expressed as the Leaf to Bulb ratio. Despite a common misconception suggesting the bigger the bulb the better, the leaf contains a higher concentration of essential minerals (phosphorus and calcium) and crude protein (around 19-23%). The bulb on the other hand contains 40-65% sugar as a rapidly fermentable carbohydrate.

As our highlighted row in the table above shows, beet's crude protein percentage sweet spot is when it hits a 35% leaf to bulb ratio which can deliver a 35 tonne of dry matter yield potential at 8-10c/kgDM growing costs. That's the beauty of beet when you get leaf to bulb ratios right.
The Wholesale Seeds team uses its unique agronomic strategies to improve this important leaf to bulb ratio without reducing overall yield which has produced great results for clients.

Simply put - a higher yield of fodder beet with the right nutritional profile means less supplement and a lower overall cost of feed that saves farmers money.
By accurately calculating this ratio for our clients we are able to determine the overall protein content of their feed and the optimal diet plan.
Crops with higher proportions of leaf have a higher overall protein content and can therefore make up a higher percentage (>70%) of the diet.
Yield potential in fodder beet is heavily influenced by variables such as leaf area index (LAI) and leaf area duration (LAD). There are numerous environmental factors that inhibit LAI and LAD including aphids/caterpillars, leaf diseases (ramularia, rust, cercospora and mildew), nutrition and available moisture.
The Wholesale Seeds approach recognises the many factors that affect total yield and yield components. We use a range of proprietary fertilisers such as Rapid Bor, Rapid Trace, Rapid Canopy and Rapid Start which can be used in conjunction with UAN (urea ammonium nitrate), fungicides
and insecticides.
It is important, however, to understand that these products are only supplementary to robust macro-nutrition. To ensure consistently high yielding crops (>30TDM/ha), with high leaf to bulb ratios (40:60), inputs of nitrogen and potassium need to be aligned with crop demand post canopy closure.
So, there you have it.

With the right transition processes in place and the right management, fodder beet still stands up as a top contender for increasing your on-farm productivity and profitability.
Our team is well informed with regards to good management practices (GMPs) and nutrient management on farm so talk to one of your local Wholesale Seeds Agronomists today.

We can help you gain a different perspective on winter cropping and answer any questions or concerns around your feed plan for your 2020/21 season.


About Wholesale Seeds

At Wholesale Seeds, our approach to agronomy and crop management couples science with a passion for delivering individual solutions best suited to our clients' systems. We are always driven by the goal of supporting them in meeting commercial targets.
Our fundamental understanding of agronomic principles has improved rapidly in recent years with the use of cloud-based reporting system Agworld. This leading edge software enables us to capture seasonal data, including inputs and operations, as well quantifying yield response.
Armed with this data, Wholesale Seeds has been able to pioneer several agronomic innovations - enhancing yield potential and improving feed quality, simply by changing yield components such as leaf to bulb ratio as we've discussed here.