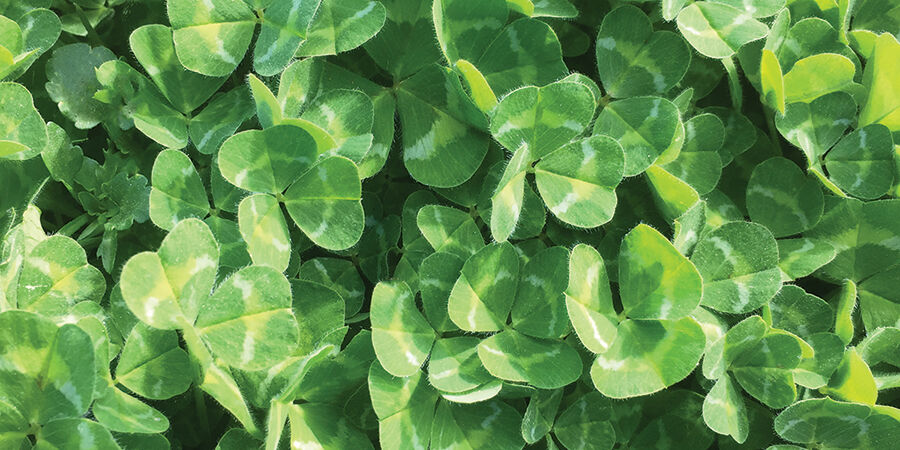 Dryland pasture species not only persist in challenging environments, but also perform at the right time to make a difference to your bottom line.
Subterranean clover (Trifolium subterraneum) is an annual clover that gets its name from the characteristic of burying seeds. Self-pollinating flowers grow off runners along the soil surface, then burrs containing seeds push into the soil, bury the seed, and survive summer droughts. The seeds germinate when rainfall resumes in the autumn.
A sward containing 50% sub clover that is fed to lactating ewes in September has shown on-farm growth rates in lambs can increase from 250g/day to 350g (Grigg et al. 2008) This is because the growth curve of sub clover is much earlier than white or red clover, these often come into flower too late for dry land sheep-breeding pastures. The time between lambing and weaning is often when true breeding properties make their money. Better nutrition during lactation = heavier lambs at weaning, more lambs away off mum and heavier stores, regardless of the season.
There are many sub clover cultivars to choose from depending on location or farming situation. They are categorised by flowering date (that is, the date they need to be shut up), their hardseededness and their burr burial rating.
There are more than 2 million hectares of summer dry hill country pastures in New Zealand. This area may experience 4-5 months of summer dry that limits other legume production but sub clover avoids the drought by producing seed and burying it.
"There aren't many things in this world that give you something for nothing, but subterranean does. We've sown about 10kg of seed / hectare in this paddock, but with a good seed set, we'll be setting hundreds of kilograms of seed / hectare which will set us up for years to come."
The success of subterranean clover takes careful planning, preparation, and management, so it isn't for everyone, but if you want to find out if it would be a good fit for your farming system, contact your local Catalyst agronomist to have a chat.