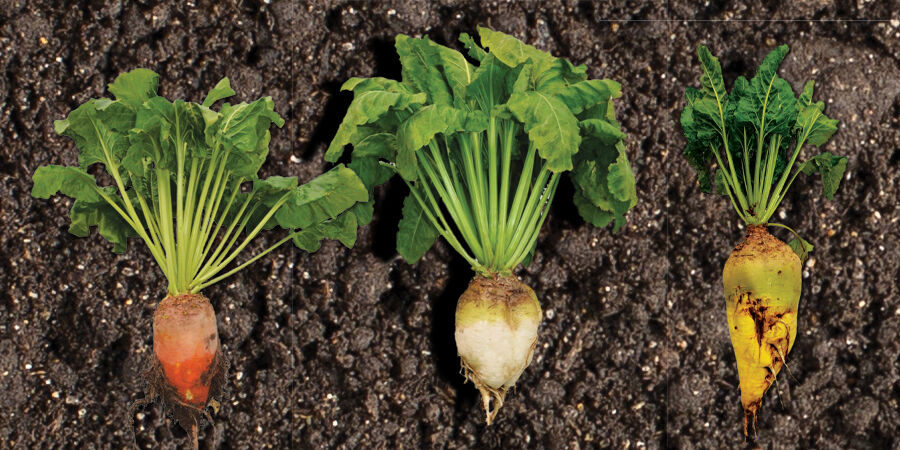 What began in 2007 purely as a product supply company has evolved to become a business with a reputation for exceptional agronomy. In 2021, to meet customer demand for specialised advice and hands-on services, the decision was made to formalise our agronomy offering under its own brand – Catalyst Performance Agronomy.
A catalyst, by definition, is an agent that promotes or speeds significant change or action. That's who we are – progressive, independent agronomists helping New Zealand's pastoral sector grow extraordinary outcomes by delivering industry-leading agronomic services and supplying performance-proven seed, agrichemicals and fertiliser that help farmers make the most from their land. We call it Performance Agronomy™.
To achieve crop yield targets and drive the productivity of any farm, sowing the right seed for your stock is critical – especially at this time of year. One crop that is having a huge resurgence in the marketplace is fodder beet. As we learn more improved novel strategies to feed this crop, geared towards optimising intake, and diet composition, we are seeing tremendous animal performance across a range of farm systems.
Whether you graze in-situ or lift to feed, this highly successful crop can be scaled and planted efficiently to suit the needs of any farm. Let's take a look at our most popular varieties and how to best implement them this spring.
Enermax
The highest yielding beet cultivar in the New Zealand market, Enermax consistently produces uniform bulbs in terms of size and height. Suitable for in-situ grazing or lifting with all stock classes, it takes approximately 200 days to mature with around 45% of the bulb above ground and produces +/- 19% dry matter.
Lactimo
A mono-germ fodder beet with a yellow/orange bulb, Lactimo sits 50% above the ground and produces large tops with a medium dry matter content of +/- 16%. Subject to management and climatic conditions its bolting tolerance is very good, as is its disease tolerance.
Feldherr
A high-yielding, mono-germ hybrid fodder beet with a light orange bulb colour. It has a low bulb dry matter percentage (12-15%) *, which some farmers prefer for grazing. Feldherr can produce large bulbs and high yields for its type and is suitable for all classes of stock, particularly young stock, older animals, and deer. Typically, 24-28 weeks to reach yield potential.
1505
This variety is a genetic mono-germ hybrid-type fodder beet. It offers medium – high dry matter ensuring maximum yield potential. 1505 will suit both grazing in-situ or self-harvesting, ensuring feeding system versatility. It offers a high leaf: bulb ratio which helps make it suitable for a range of grazing systems.
Bangor
A modern mono-germ hybrid variety that is ideal for grazing. It is a uniform fodder beet with a medium-bulb dry matter percentage (16-18%), and a high yield potential. Approximately half the bulb sits above ground and is yellow in appearance­. Sow Bangor from late September through to early November.
Geronimo
A recently released mono-germ fodder beet that farmers can expect +/- 17% dry matter from, Geronimo's origins trace back to France. Identifiable by its yellow-orange tankard shaped bulb, this variety is known for its tolerance to diseases such as rhizomania, ramularia and mildew. Versatile across various grazing applications, it can be grazed in-situ, lifted or fed whole or chopped.
Goldimo
Goldimo is a new mono-germ hybrid with improved quality & yield. The bulbs grow +/- 45% above ground and are medium dry matter (15-18%). The bulb is pale red in colour, and large conical-tankard in shape, well suited to grazing stock but can also be lifted. It has excellent early season vigour, strong foliar growth and maturity similar to that of Geronimo. Sowing Rate of 90-100,000 per hectare.
Laurena
This is a new variety to New Zealand. Laurena is a very high yielding beet with a very dry matter percentage of 20-22%. Sitting +/- 30% above the ground, Laurena has white/green conical bulbs. It can be sowed in the Spring and is best suited to lifting, fed whole or chopped.
Our greatest principle when it comes to best practice is that successful crop management starts and finishes with the right people. Working alongside farmers to find the greatest agronomic solutions for their operations is what we do at Catalyst Performance Agronomy and implementing fodder beet successfully is only one part of our process. For more information on how we can work together to get the greatest return on your crop yield, contact one of your local agronomists.